Loving Wonky
Zomby's 'Kaliko' is a remarkably complex, sophisticated piece of music. It can be read as an essay in the duple-vs-triple metrical tension of dub, and as such it thoroughly deserves to be considered 'hyperdub' after the record label it was put out on. The kaleidoscopic play of constantly rolling textures in expanded tonality reminds me of nineteenth- and twentieth-century études or studies, especially those composed by avant-gardist György Ligeti. It can also draw comparison with the work of Ives and Carter, central African polyphony, experimental gamelan and especially the early modernist polyrhythms and cascade-like figures of Stravinsky in works like The Rite of Spring.
'Wonkification' is a psychedelic new modernism that can't be dismissed as 'pulp avant-garde' (perhaps, as Dan Hancox suggests, British club music is in the midst of a 'revolutionary ferment', albeit partially). Like its six-hundred-year-old counterpart the 'ars subtilior', 'wonky' manifestly deserves to be called a 'more subtle art' - more subtle than some were expecting.
Wonky as Transversal Rave
Even further, the very notion of "wonky" itself is a deeply slippery idea. Sometimes it indicates de-quantised drums (as in Flying Lotus, Lukid, and other post Dilla beat-artisans) sometimes pitch-bent synth and bass work (Joker, Starkey, Rustie), sometimes a maddening rush of 8 Bit arpeggios (Zomby, Ikonika, Rustie again). Wonky is not so much a genre unto itself. Instead it operates as a kind of trans-generic mutational agent, spreading seamlessly between bpm species, liquidating textures, distending rhythmical consistency like so much manipulable sonic sticky toffee: All that is solid melts into a new electronic psychedelia, as fluid and mellifluous as the globalised capitalism which spreads it.
We might think of Wonky as operating as a vector transversal to genre, a transversal analysis in-itself operating beyond merely a postmodern genre-game. Rather than a pick and mix approach to generic materials, wonky is strategically applied to pre-existent genres, not as an adhesive but as a liquefying agent... [cf perhaps Negarestani's rotting objects?]... a making strange... not in the sense of hauntology's unheimlich-home, but in the deliquescent informational fluidity and interoperability of late capital, the strangeness of a blooming irridescant corpse, (not a spectre) a sonic embodiement of its distributive ground.
Wonkitecture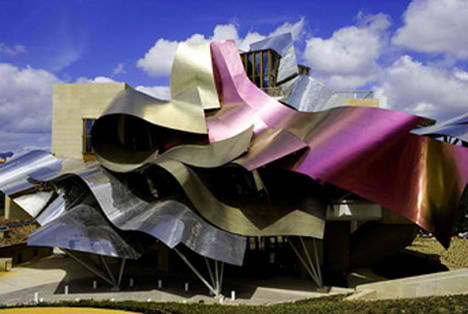 Most obviously, the buildings literally look wonky. They bend, they twist, they appear to collapse or leap, their masses shift and cantilever – put simply their forms appear "out of place, out of key and misshapen" to borrow from Alex SBA.
Second, recent architecture has been awash in bright colour due to increasing whimsy on the architects' behalf as well as advances in synthetic cladding. This calls to mind the common synesthetic tendency to associate the multi-textured and pitch-bent synths of wonky with bright day-glo colour.
A final parallel could be seen between the overall extravagance and visual sensation of these buildings and the dramatic arpeggios of a producer like Zomby. The rapid climb of notes in Kaliko (painstakingly transcribed by RF here) is akin to the dramatic oblique ascent of windows on Gehry's Stata Centre, the twisting beams of Calatrava's Turning Torso or the interior of Libeskind's Denver Art Museum.
hell yeah
Edited by Salvatorin, 03 September 2010 - 10:31 AM.